Rod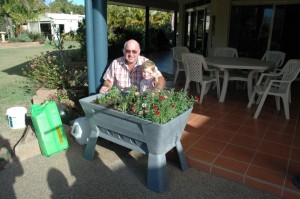 Rod was one of the first to experience growing with the Garden Easi planter.  Being an ex-farmer, he knows the joy growing can bring and wanted to pass this on to his granddaughter Cadence and it has definitely worked.  In fact they call their planter Cadence's flower garden, and every time she comes over she runs straight outside to pick some flowers for mummy.  I asked Rod why he liked the planter so much and uses this rather than planting in the ground and he said "because it is just so easy!"
Rod has grown flowers, herbs and lettuces in his planter: "I had so much lettuce from just 6 seedlings I was giving bags of it away".  Rod said the fact the planter is nice and high, but still reachable for his 2 ½ year old granddaughter made growing an enjoyable experience for everyone.
Catherine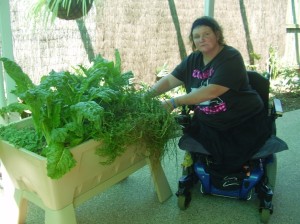 Meet Catherine.  Catherine has lost both her legs, all her fingers and only has one thumb.  This has been caused by a vascular disease that has slowly killed parts of her body resulting in Gangrene and eventually amputation.
Don't think any of this stops Catherine though, she has meet life in the face and has said; "I can do anything!" and so she does, raising 2 children, finishing a Certificate 4 in Youth services, working at the Salvation Army with the street kids and now gardening.
Catherine uses the Garden Easi garden bed; the height is perfect for the wheelchair allowing Catherine to finally be able to grow her own vegetables and herbs.
"I love the freedom the Garden Easi Garden gives me, for the first time, I can do the gardening"
The Garden Easi garden is the perfect system for those with mobility issues like Catherine; however it also has some really great environmental features.  The garden has a false floor with a compartment for capturing the runoff water; this can then be recycled back through the garden.  An independent study by a tafe found that by recycling the water they saved 60 liters of water in one month.*
The garden has no leakage thus is great for balcony's where run off is an issue below to your neighbours.  The garden bed is made from the same material as a water tank, thus is UV stablised and food grade, it is also double skinned protecting your plants from both the heat and the cold.
The Garden Easi garden is designed to allow anyone to garden in an environmentally sustainable way.  It allows people to grow their own food, cutting down the carbon from transport, it efficiently uses every drop of water saving 720 liters a year – and there is no runoff, protecting our surrounding environment.